Never Married
No Children

View all the Losty Family members and their in-laws on our Quick Links page
The Losty Family History
Illustrated Narrative continued...
HOLYOKE MASSACHUSETTS

BRIDGET L. LOSTY 1860 - 1943
Bridget Losty is the daughter of John & Julia Losty. She was born in Kildare County, Ireland March 31, 1860.

Bridget's childhood years are documented on her parents page. Go to John & Julia Losty's history page to read about Bridget's childhood between the years 1861 and 1879.

In 1880, Bridget Losty was 19 years old, employed in a paper mill and living with her brother Matthew J. Losty and his wife Catherine T. (Burns) Losty in Holyoke, MA. 1880 Reference. In the 1892 and 1896 Bridget was employed at the Whiting Paper Company in Holyoke, MA and still living with Matthew and Catherine in Holyoke. Reference

In 1900 Bridget turned 39 and it was apparent she was not going to have children. We will never know exactly why Bridget chose not to marry and have children, except to say perhaps she feared her children would have to grow up working instead of playing as she had. Or, perhaps, considering the fact Bridget began working at age 9 in Russell, Massachusetts, one might consider Bridget's freedom as an adult the childhood she never had and she just never fancied the idea of the responsibility of parenthood. You will soon learn that Bridget was a roamer and moved frequently throughout her life in contrast to her brother Matthew who never left Holyoke after arriving as a young man.
Sometime after 1900 and before 1910, Bridget moved to Wilbraham, Massachusetts. Her departure from Holyoke is noted in the 1910 Holyoke City Directory.

Ten years later, in 1930, Bridget was 69 years old. She was still working in the Paper Industry and had moved back to Holyoke where she shared an apartment with Bridget Dooley located at 215 Suffolk Street.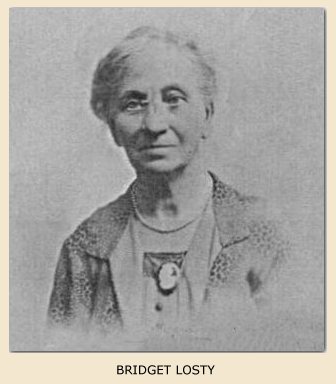 We learn, the following year, in 1931, Bridget's occupation in the Paper Industry was that of a "Machine Operator" and she was employed at the Whiting Paper Company which at that time was producing ten tons of fine writing paper per day. Reference In 1936, Bridget had moved to 62 Hampshire Street and, as noted in the City Directory, was living with Delina Losty, wife of George J. Losty (Matthew's Oldest Living Son). Reference
Note: The 1936 Holyoke City Directory reveals Bridget's middle initial to be "T". However, two other directories list her as Bridget L. Losty (1941 and 1943).

Bridget resided in the home of George J. Losty and Delina Russell until her death in 1943 passing on February 16th, 1943 at the age of 82. Reference: Bridget Losty Obituary
You can visit Bridget in the Calvary Cemetery in Holyoke, Massachusetts where she was laid to rest in 1943. View Bridget Losty's Memorial - Read Bridgets Obituary

Special Note: Bridget Losty's Photos were contributed by her brother's Great Granddaughter - Susanne (Noland) Kelley